Event marketing does not have to cost thousands of Swiss francs. The first step in organising an event is always to set clear goals and plan time and budget. We have summarised the most important advertising measures for you that won't cost you any money. From pinpointing your target audience to social media or post-event measures: We'll share our tried and tested tips and tricks to help you stand out from the crowd.
For those who prefer listening to podcasts instead of reading blogs, here is our podcast on event marketing (in German only).
Sooner or later, anyone who has something to sell will come across the Eventas a marketing tool. Depending on the need and the goal, an event can take place on a small scale with a carefully selected audience or appeal to the broad masses. No matter how large, the marketing of an event should be considered from the beginning just as much as the planning, organisation and execution itself. Especially the summer – as a high season for events – can become a challenge, as you have to vie with many other providers for the attention of the target group. That's why we would like to introduce you to our 1×1 for event marketing today.
1×1 of the target group
With limited resources, you need to be clear about the target group you want to reach with the promotion of the event. To do this, you should take a close look at them and analyse them in order to use time and money efficiently. Ask yourself the following questions:
Where does your target audience stay: online or offline? 
Do they inform themselves on social media or in forums? 
Do they read newsletters or consume other media? 
Are they out and about in shopping centres or online shops?
1×1 of "free" marketing channels – event website
Our digital world allows us to reach a large target group with little financial resources. The first "free" advertising space to take advantage of is your event website or a landing page. Be sure to include the following:
A crisp and catchy description of the event
All event facts: Date, time, place and map as well as information on guests, speakers, etc.
Appealing images that arouse emotions (if there are no images yet, design a nice key visual)
Content, content, contentIn the run-up to the event, you should upload new content to the website from time to time. This can be a video, a behind-the-scenes picture or an interview with one of the artists. 

Another advantage of pre-produced content: You can recycle it several times and use it for social media, but also for posters, out-of-home campaigns and possibly for your PR.
In general, the website should be SEO friendly and your keywords, title tags and headings should be chosen to appeal to your target audience.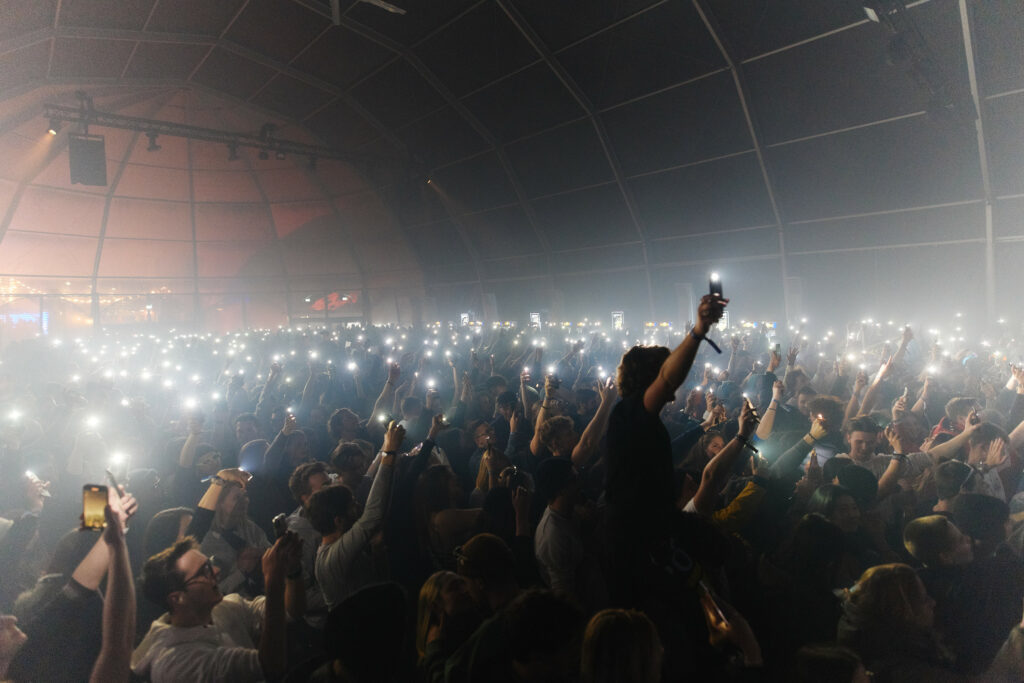 1×1 for mailings
If you have a newsletter list, email marketing is probably the best channel to generate awareness and registrations for your event. It is important to keep the following in mind:
One time is no time: Take your potential guests on a so-called customer journey and plan several mailings right from the start: from pre-sales or announcements to new, previously unknown information to highlight announcements shortly before the event. Think about what you want to include in the newsletter from the very beginning – you might reveal one guest or show act after the other or you hold back a certain piece of information for a while.
Show added value: Design your distributions in a way that they provide value to the recipient. This does not mean that you have to give away free tickets. An interesting interview or tips on how to keep a cool head in the festival summer, for example, can also create an initial bond with potential guests.
Tip: If you don't have your own newsletter list, you can check with partners, speakers, acts or the location to see if the event can be mentioned in their newsletter. This can also mobilise a whole new environment.
1×1 of "free" marketing channels – social media
Social media is a powerful tool for promoting events. However, make sure you choose the right platforms for your event. Otherwise you will quickly lose the overview and waste valuable time on platforms that are not very promising. Here are four possibilities – besides regular posts – that can make your event stand out from the rest:
On Facebook or LinkedIn, you can create events and share them. And you should – similar to the newsletter mailings – make continuous updates and countdown posts to be present in the feed of your followers.
Be sure to put a direct link to your event page in your social media bios, e.g. on Instagram or Twitter, for the period before the event. This gives you the advantage that interested followers can find the information they need to register for the event more quickly. Because sometimes an extra click can decide whether someone buys a ticket or not.
If your event is recurring, you can use your guests and community and ask them to publish content about the event on site with hashtags or a social media challenge. You can reuse and repost this content for the next event.
Involve your partners, guests and acts in the application process from the beginning and create posts that they can share on social media and/or send out by email.
1×1 for post-event measures
Although the event is actually over after date X, you should never underestimate post-event marketing. Especially if you want your event to be a recurring event, they can save you a lot of work. To make full use of the potential, you can consider whether one of these ideas is right for you:
Publish an event review as a blog post
Create a video and a press release for local media
Send out a thank you email with links to image galleries and an invitation to follow your social media channels
So much for our 1×1 of event marketing! And remember, if you ever get in trouble with your event marketing, never be afraid to seek external opinions and help.